ReportageRather than marching through the aisles of Japan Expo, cosplay enthusiasts make their know-how and equipment available to repair costumes.
10:24 a.m. While on this Thursday, July 14, at the Villepinte Exhibition Center (Seine-Saint-Denis), the Japan Expo fair opened its doors barely 30 minutes ago, a first injured visitor comes to the "cospital » with a pair of damaged horns. A little duct tape will suffice to consolidate the patient's appendages, which are made from aluminum and plaster.
In these emergencies of another kind, contraction of cosplay words [pratique consistant à se costumer pour incarner un personnage de fiction] and hospital, not sprains or broken arms but rips and spun stockings. We witness the repair with glue of broken accessories or the express sewing of torn zippers. The stand is located in the heart of the "cosplay village", not far from the stages where the contests take place and the sets intended to showcase the famous costumes which sometimes required hundreds of hours of work, from patronage to design.
For four days, armed with box cutters, colored sewing threads or cans of paint, volunteers take turns to best help those who do not have the necessary on hand to patch up the outfit of their favorite hero. On the black t-shirts of these emergency handymen is inscribed Love Craft, the name of the association behind the initiative, which brings together around thirty enthusiasts from Lille, the Paris region and the Grand Est.
Read also:
Japan Expo reopens its doors and diversifies, after two years of absence
Minor sores and "war medicine"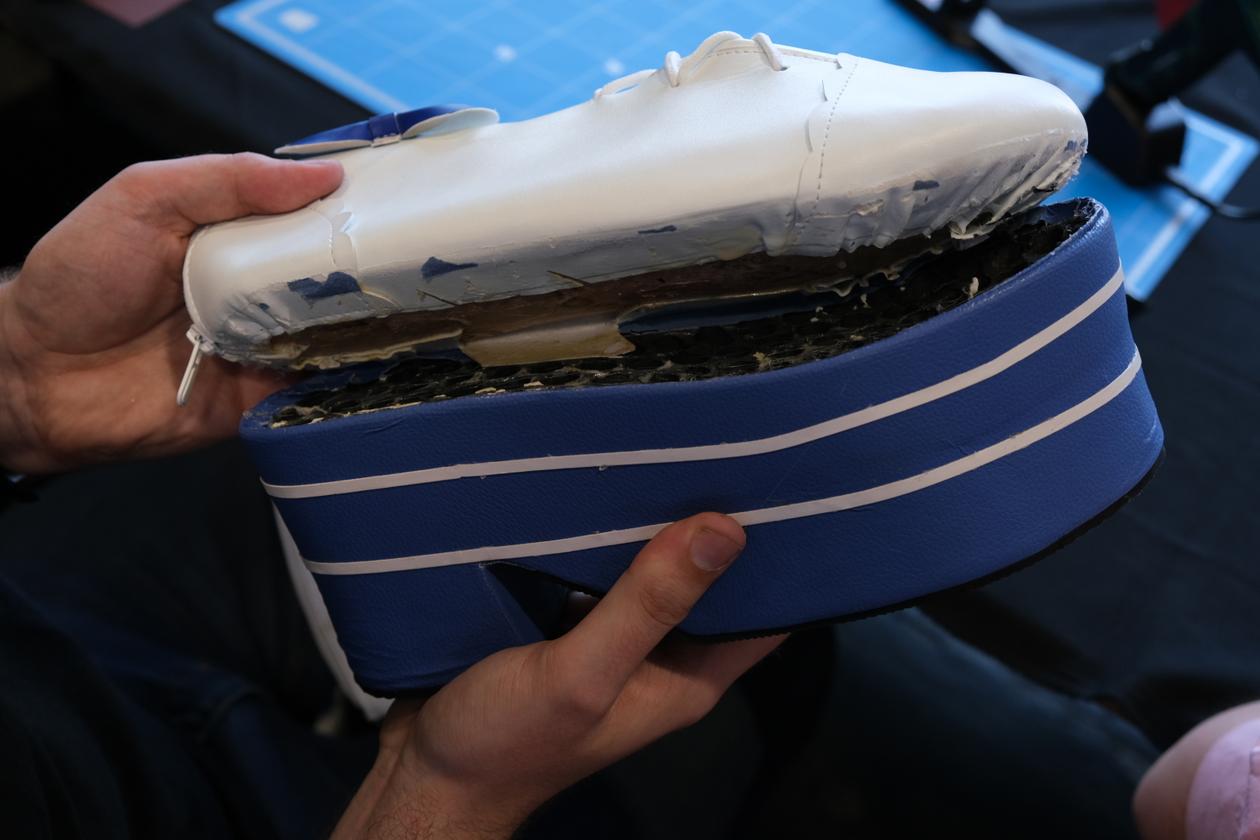 11:42 a.m. In her blue satin dress borrowed from Praline, a video game character Bravely Default, Joffrey limps to the pit table. And for good reason, the platform sole of his left boot has completely come off. "A transport accident. I twisted my ankle getting on the bus to come and crack, the 15cm sole came off"says this 26-year-old resident of Essonne.
"A transport accident: I twisted my ankle on entering the bus to come and crack, the 15 cm sole came off. Joffrey, 26 years old
The ankle remained solid, like morale: "I've had a hard time in six years of cosplaying. » He lists the torn stockings, the little accessories that get snagged while walking through the crowd. "It's always difficult to keep your costume intact"explains this female cosplay lover, showing off her custom-made outfit of the day, "800 euros and two months of work".
Fabrice, known as Dounice, a founding member of the Love Craft association from Lille, gladly makes conversation while he generously applies glue heated by a gun to Joffrey's boot.
You have 64.6% of this article left to read. The following is for subscribers only.